Demands and offers of wood and wood products - Suppliers from the wood industry - The latest information
Discover the latest members of WoodBusinessPortal.com
To become a member please sign up.
Companies
Discover the latest products added by WoodBusinessPortal.com members.
If you want your products to be added to this list, please sign up.
Products
Discover the latest news from the wood industry only on WoodBusinessPortal.com
To become a member please sign up.
Articles & News
The representatives of the Governments of Kenya, Uganda and Tanzania have announced their intention to work together to combat the illegal timber trade, in collaboration with the UN and Interpol. It`s become part of a multi-sectoral and international commitment to combat crime in East Africa. The illegal cutting of trees to obtain timber results economic losses, destroys biodiversity and natural habitats, encourages corruption, helping to finance terrorism and armed conflict, as pointed out by United Nations Environment Programme (UNEP) in its latest report shock. For the global economy, the illegal trade of wood results in an estimated loss of 30 - 100 billion dollars each year, an incalculable damage to the regional and national ...
The Italian woodworking machinery producer Biesse faced a slight fall in total revenues in 2013 after all. At the start of February, the company had anticipated that revenues would be in line with the previous year and earnings would be much stronger than in 2012. According to its financial statement released on 12 March, net revenues slipped 1.2% compared with the previous year to land at 378.4m euro. Italian operations saw turnover slightly higher than in 2012 at 42.4m euro. The export rate has thus slipped a little to 88.8%.
The woodworking machinery producers of Germany have recorded a drastic decline of 5% in the production revenues amounting to 2.21bn euro in 2013, thereby maintaining a continuum with the downward trend once observed in the year 2012. This information is in accordance to the preliminary information obtained from the Woodworking Machinery division within the German Machinery and Plant Construction Federation (VDMA). Production fell by some 6 % from 2.51bn euro in 2011 to 2.35bn euro in 2012. Manufacturing had thus tumbled by approximately 300m euro or 12% in the past two years.
Industrial production in Estonia in February was broadly unchanged from the previous month, according to figures published by Statistics Estonia. However, the timber industry once again recorded strong year-on-year growth, helping to drive the annual gain. When compared to February 2013, manufacturing activity was up by three per cent and it was the manufacture of wood and wood products, electrical equipment and food products that propelled the figure higher. Over the course of the month, 71 per cent of the country`s production was exported to be sold on the international market. This represents a reduction of four per cent annually and there was a three per cent drop in domestic sales.
The ongoing crisis in Spanish housing construction paved the way for another reduction in construction activity in 2013. Figures released by the Spanish statistics agency INE show that apartment completions tumbled 43.8 % in a year-on-year comparison to stand at 64,636 in 2013. The 16.2 % slump in residential building permits to 58,344 suggest that construction activity will continue to wane in the coming months. Permits for apartments in new buildings dove 23.3 % to 33,869 units. 22 % fewer permits were issued for single-family homes with a total of 11,315. 22,538 permits were granted for apartments in new buildings, 23.9 % fewer than the previous year.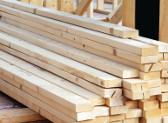 Imports of sawn tropical hardwood declined into Belgium, Netherlands, Italy, UK, Spain, and Portugal. However there was a 4% increase in imports into France and imports into Germany remained level. EU imported 314,000 m3 of sawn hardwood from Cameroon in 2013, 14% less than the previous year. This was partly due to mounting supply problems in Cameroon which have been particularly pronounced for sapele, the most popular commercial species in Europe. By the end of 2013, lead times for delivery into Europe of new orders of sapele from Cameroon were around 6 months.